Paginile cu care se termină sesiunile sunt importante în analiza unui site. Până acum, exista un astfel de raport în Google Analytics, numit Exit Pages. În cea mai nouă versiune de analytics nu avem acest raport, la fel cum nu avem nici acest indicator în alte rapoarte.
Ultima dată am scris despre cum putem vedea Landing pages în GA4, astăzi o să scriu despre cum putem vedea paginile de ieșire.
O variantă a fost atunci să adăugăm indicatorul care ne lipsea într-un raport standard. Dacă încercați același lucru pentru Exit pages, veți vedea că nu se poate. În acest moment, nu putem personaliza rapoartele standard din Google Analytics 4 adăugând această metrică. Poate că situația se va schimba în viitor, dar acum nu este o opțiune.
Ne rămân la dispoziție rapoartele personalizate, pe care le găsîn în secțiunea numită Explore. De acolo, putem crea un raport nou. Dacă suntem întrebați, el poate fi de tipul Free form (primul tip din lista de opțiuni).
Dacă acest raport are din start niște dimensiuni și metrice afișate, le puteți șterge din coloanele Rows, Columns și Values. În locul acestora, vom adăuga proprii noștri indicatori.
Pagini de ieșire din site-uri web
Ne interesează paginile web, așa că în zona din stânga pentru Dimensions vom da click pe butonul + și vom adăuga dimensiunea numită "Page location". Aceasta va arăta URL-ul fiecărei pagini din site, dar dacă preferați, puteți vedea că aveți acolo și alte opțiuni, precum "Page title", "Page path + query string" și altele pe care le puteți încerca pentru a vedea care este cel mai potrivit pentru fiecare.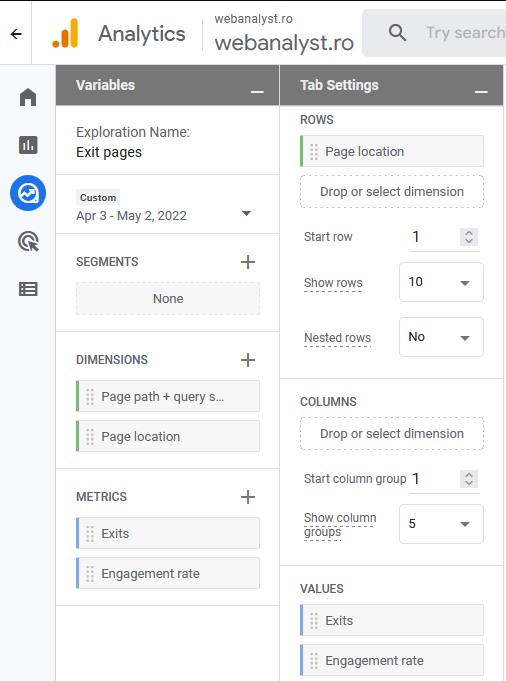 Urmează să ne uităm și la Metrics, unde principalul indicator care trebuie adăugat este Exits. Putem adăuga această metrică și vom avea raportul dorit, dara acesta nu va fi foarte util fără alți indicatori.
O pagină poate avea număr mare de ieșiri, pentru că a avut și număr mare de utilizatori. Așadar, eu aș mai adăuga la Metrics și lucruri precum Active users, Views sau chiar Engagement Rate, care este util pentru că surprinde mai multe ipostaze. Un număr mare de Exits și o cifră slabă de Engagement Rate pot reprezenta o problemă.
Pentru ca raportul să fie gata, trebuie să mutăm Dimension la Rows și Metrics la Values. Asta înseamnă că analytics va afișa aceste valori în raport. În partea de sus a acestui articol se poate vedea cum arată acest raport pentru site-ul curent.
Ieșirea din aplicații
Să nu uităm că Google Analytics 4 prezintă date pentru site-uri web, dar și pentru aplicații mobile.
Este posibil să vedeți paginile de ieșire din site și din aplicație împreună, dacă din Dimensions veți selecta Page path and screen class. Totuși, aici depinde mult despre cum a fost implementat Firebase Analytics în aplicațiile mobile.
Dacă acea dimensiune nu a oferit rezultatele scontate, puteți încerca și altele, precum Page title and screen name.
Tot în Google Analytics 4 avem și posibilitatea să vedem ecranele de ieșire din aplicații (fără site web). Poate ați văzut tot acolo că există dimensiuni și pentru Screen class și Screen name.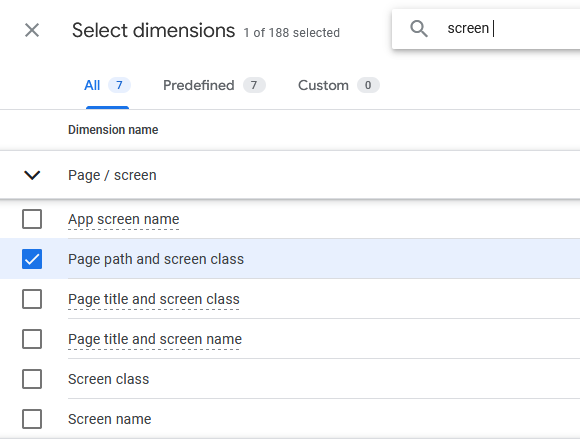 În final, amintiți-vă că utilizatorii este normal să iasă din site-urile și din aplicațiile voastre, deci în majoritatea cazurilor nu este o problemă să vedeți valori mari în dreptul metricii Exits.